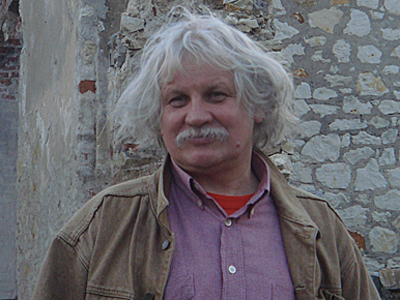 fot. Grażyna Banaszkiewicz
Script writer, author of visuals and director of drawing and combined films, teacher. He was born on February 1st, 1948 in Poznań. Graduate of the painting and graphics faculty of the Academy of Arts in Cracow (1973), where he studied in the Animated Film Workshop. After graduating he stayed at the university; until 1994 he had classes in the Animated Film Workshop. Currently a professor of visual arts in the Electronic Image Workshop in the Photography and Inter media department of the Graphics faculty and the director of the Animation Arts Workshop of the Inter media department of the Sculpture faculty. From 1974 he has been associated with the Animated Film Studio in Cracow. Associate of the TV Animated Film Studio in Poznań. He makes author films for children and adults; the latter are usually made in a gloomy tonality and show civilization threats. He also paints and does graphic design. He has taken part in over ninety exhibitions in Belgium, Denmark, France, Greece, Japan, Yugoslavia, Germany, Switzerland, Sweden, Turkey and Poland. He has had twenty individual exhibitions in Geneva,Cracow, Częstochowa, Poznań, Szczecin, Zamość, among others. For his painting output he received the II prize at the VII Modern Polish Painting Festival in Szczecin, a silver and brown medal at the Polish painting exhibition "Autumn in Bielsko", a Grand Prix at the exhibition "Cracow Meetings", the Stanisław Wyspiański medal at the Cracow Painting Salon, a prize at the V Graphics Biennale in Sapporo, among others. Main character of Jerzy Armata's 6th edition of the TV cycle "Anima" (2000). Laureate of numerous prizes for films, painting and graphic design.
Loading the player ...


Commentary: prof. Krzysztof Kiwerski about himself
Loading the player ...


Commentary: prof. Kazimierz Urbański about Krzysztof Kiwerski