overview
About the film
A film adaptation of the second part of Henryk Sienkiewicz's Trilogy. Andrzej Kmicic, a cadet officer, arrives to Wodoktów to meet Aleksandra Billewiczówna, his bride-to-be. They fall in love at first sight. However, Kmicic's impulsive and rebellious nature gets him into trouble. At the same time the Swedes invade the Republic of Poland. Kmicic decides to devote himself to fight the enemy in order to expiate for his guilt and to regain the heart of his beloved.
Time: 1655-1658 rok
Place: Kiejdany, Wodokty, Śląsk, Jasna Góra, Taurogi, Wołmontowicze, Lubicz
Rights: Filmoteka Narodowa
Colour system: barwny
Language: pl
Cast
Daniel Olbrychski
(Andrzej Kmicic)
,
Małgorzata Braunek
(Oleńka Billewiczówna)
,
Tadeusz Łomnicki
(Michał Wołodyjowski)
,
Kazimierz Wichniarz
(Zagłoba)
,
Władysław Hańcza
(książę Janusz Radziwiłł)
,
Ryszard Filipski
(wachmistrz Soroka)
,
Leszek Teleszyński
(Bogusław Radziwiłł)
,
Wiesława Mazurkiewicz
(ciotka Kulwiecówna)
,
Franciszek Pieczka
(stary Kiemlicz)
,
Bruno O'Ya
(Józwa Butrym)
,
Włodzimierz Bednarski
(Zend)
,
Bogusz Bilewski
(Kulwiec)
,
Andrzej Kozak
(Rekuć)
,
Stanisław Łopatowski
(Ranicki)
,
Stanisław Michalski
(Kokosiński)
,
Paweł Rouba
(Uhlik)
,
Krzysztof Kowalewski
(Roch Kowalski)
,
Leszek Herdegen
(Sakowicz)
,
Lesław Janicki
(Damian Kiemlicz)
,
Wacław Janicki
(Kosma Kiemlicz)
,
Stanisław Jasiukiewicz
(Augustyn Kordecki)
,
Arkadiusz Bazak
(Kuklinowski)
,
Wiesław Gołas
(Stefan Czarniecki)
,
Kazimierz Opaliński
(poseł cesarski)
,
Piotr Pawłowski
(Jan II Kazimierz)
,
Bolesław Płotnicki
(ksiądz)
,
Wasyli Simczicz
,
Jerzy Bielenia
(Ganchoff)
,
Stanisław Chmieloch
(Butrym)
,
Wirgiliusz Gryń
(Zbyszko)
,
Olgierd Jacewicz
(Stankiewicz)
,
Tadeusz Kosudarski
,
Juliusz Kalinowski
(kanclerz Oxenstierna)
,
Andrzej Krasicki
(Bergman)
,
Jolanta Lothe
(Terka Gasztowtówna-Paculanka)
,
Euzebiusz Luberadzki
(Prymas)
,
Tadeusz Ordeyg
(Kasjan Butrym)
,
Ryszard Ostałowski
(Bartek)
,
Adam Perzyk
(Charłamp)
,
Jerzy Przybylski
(Miller)
,
Tadeusz Schmidt
(Oskierko)
,
Lech Skolimowski
(pułkownik Mirski)
,
Stefan Szmidt
(Tyzenhaus)
,
Ewa Szykulska
(Zonia Gosztowtówna-Paculanka)
,
Anna Seniuk
(Marynia Gasztowtówna-Paculanka)
,
Harry Szwejc
,
Mieczysław Voit
(Wrzeszczowicz)
,
Sławomir Zemło
(Tomasz)
,
Leonard Andrzejewski
(Aga)
,
Bolesław Abart
(Sosnowski)
,
Marek Dowmunt
(oficer księcia Bogusława)
,
Jerzy Fedorowicz
(Braun)
,
Jerzy Kozakiewicz
(Krzepisz)
,
Hugo Krzyski
(kanclerz)
,
Ferdynand Matysik
(miecznik sieradzki Zamoyski)
,
Leon Niemczyk
(Karol X Gustaw)
,
Zanys Prekulis
,
Józef Grzeszczak
(trębacz)
,
Kazimierz Kaczor
(oficer księcia Bogusława)
,
Zygmunt Kęstowicz
(oficer szwedzki)
,
Jerzy Moes
(oficer szwedzki)
hide tab


storyline
Part I.
A cadet officer, Andrzej Kmicic, arrives to Wodoktów. He has been bequeathed wealth and a hand of Aleksandra Billewiczówna. So Kmicic comes to meet the girl. He falls in love with her at first sight and kisses her even though she protest. He cannot hide his happiness before his officers. They all get drunk in a tavern in Lubicz and shoot at miss Billewiczówna's portraits of ancestors. Later Kmicic organizes a sleigh ride for Oleńka but it is disturbed by sergant Soroka's report about a revolt in a neighbouring city. Kmicic goes to put down the revolt. His officers stay but Oleńka drives them out of Wodoktów. She knows what they did in Lubicz and she suspects they are the main reason for Kmicic's revelries. When Kmicic comes back to Lubicz he sees his officers' dead bodies – during their last drunken revel they fell foul of the noblemen from the neighbouring village Wołmontowicze. Kmicic puts the whole village on fire and kills all its residents. Being chased, he hides out at Oleńka's. She helps him out but when he is safe, she throws him away as she is terrified with what he has done in Wołmontowicze. Kmicic kidnaps Oleńka. Michał Wołodyjowski comes to rescue her. He wins a duel in which Kmicic gets seriously injured. When he sees Oleńka's frightend face while Wołodyjowski's people carry half-dead Kmicic to the house, he understands that she truly loves him. So Wołodyjowski tells Kmicic about it and proposes him service for prince Janusz Radziwił in order to expiate for his guilt. The war is coming as the Swedish Army has entered the Polish Republic. Kmicic makes a promise to change for better. He goes to Kiejdany to visit the prince where he swears an oath of obedience and fidelity. But the very same evening Kmicic discovers the prince's deceit – Radziwił has become an ally with the Swedes and out of fear for the soldiers' revolt he has made at least one of them loyal. All the colonels together with Wołodyjowski and Zagłoba are taken prisoners while Kmicic has to remain with Radziwił. He even fights against those soldiers who rebel against prince. Radziwił manages to convince Kmicic about his good intentions. He persuades him that becoming a Swedish ally is just for the sake of appearances. He wants to gain the Polish crown from the Swedish hands so that later he can deal with them as the king. Kmicic gets involved in the prince's plot just asking him to release Wołodyjowski and other colonels. Radziwił agrees and writes a special pardoning letter. Meanwhile Kmicic goes to Wodoktów to see Oleńka. He meets Wołodyjowski, Zagłoba, and other colonels there. They want to shoot Kmicic for treason until they find the letter from the prince giving them freedom. Then they show him another letter from the prince saying they are to be shot anyway. It is only thanks to Zagłoba's stratagem that they are alive and free. Kmicic is puzzeled and does not know who can really be trusted. Anyway, he returns to Radziwił and tells him to his face what he thinks about it all. However, Radziwiłł manages to convince him about his good intentions again saying that by killing rebellious colonels he wanted to spare trouble caused by them for the Polish Republic. He sends Kmicic to Podlasie to his brother prince Bogusław Radziwiłł to ask for his help. It is Bogusław that thoughtlessly tells him the whole truth: both Radziwiłłs serve the Swedish king and they do not really care about the Polish Republic-they just use it to serve their purposes. Kmicic attempts to kidnap Bogusław but he manages to escape and shoots straight into Kmicic's face.
Part II.
Prince Bogusław sets it about that Kmicic offered him to kidnap the Polish king and to deliver him either alive or dead to the Swedes. Prince talks about himself as Jan Kazimierz's suporter winning Oleńka's sympathy with it. Meanwhile Kmicic recovers in Kiemliczów, a wood hiding place of his former subordinate officers. He sends a letter to both Radziwiłłs saying he has their letters to the Swedish king that are a proof of all their chicanery. Janusz gets angry but he knows that until Oleńka stays with them, they hold Kmicic in check. Bogusław takes Oleńka to Taurogi where he gives parties and balls in honour of her. Eventually he proposes to her but she refuses. So, he tries to rape her when someone hits him on his head.
Kmicic is aware of being pronounced a traitor all over Poland. For this reason he asks his people to call him Babinicz. Accidentally he hears a conversation between two Swedish commanders talking about a plan to attack a monastery at Jasna Góra. He goes to Częstochowa and convinces prior Kordecki to prepare for defence. So both monks and soldiers stand together on the monatery's walls ready to fight. However, the Swedes has brought a culverin with them and thus gain an advantage over the monastery. Kmicic-Babicz disguised as a Swede enters their camp and blows the culverin up. He is taken prisoner and tortured with a fire. Kiemlicze manage to rescue him and they all go to Silesia to meet the king Jan Kazimierz. Kmicic introduces himself as Babicz again. The king decides to follow Kmicic's advice and to go back to Poland to support his faithful confederates. On their way the king's retinue meets the Swedes in a snowy gorge. Kmicic-Babicz together with Kemlicze starts fighting. Still the king would die if not the help of the highlanders who joined the fight from the woods. Soldiers find Kmicic-Babicz among all the injured in the battle. He thinks he is dying and reveals the truth about himself to the king. Confederates attack Kiejdany. Lonely Radziwiłł dies. The are fewer and fewer Swedes in the Polish Republic. A decisive battle takes place. Polish army is lead by Czarniecki. Bogusław fights with the Swedes. Very soon Polish Army begins to win. Kmicic and Bogusław fight a duel in which Kmicic injures Bogusław but lets him free – he is afraid about Oleńka's fate as she stays in Taurogi. However, he does not know that she managed to escape in a disguise of the Swedish officer. They eventually meet in a church. Wołodyjowski and Zagłoba also come back from the war. They bring the letter from the king in which he orders to forgive Kmicic all his faults and also mentions his services for the country. Oleńka forgives Kmicic and they get married.
hide tab


comment
"The Deluge" was supposed to be made by Aleksander Ford in 1966. After the success of "The Order of Teutonic Knights" he was given priority to make Henryk Sienkiewicz's film adaptations. In March 1965 he announced he works on the screenplay together with Wojciech Żukrowski, a writer who researched Czarniecki and knew the period very well. The screenplay was to focus on the threads with Kmicic only. It is difficult to say how this project would have developed further if Ford had not been writing other screenplays at the same time. The making of "The Deluge" was moved away until Ford was forced to leave the country in March 1968. Also, in 1968 Jerzy Hoffman was making "Colonel Wołodyjowski" and it was a close shave for him to end up in the same way. One of his team members incited others to rebel against him. SB agents pestered him in a hotel. Hoffman said: " Interrogations lasted till the morning when it was time to start working. Eventually, I told them I knew they wanted me to leave and their eyes confirmed that. So I continued telling them that my wife was the citizen of the Soviet Union and I myself studied in Moscow. So I offered we could move to Moscow. It was my last interrogation." ("Zdjęcia: Jerzy Lipman", WAiF, W-wa 2005).
This unpleasant incident need not to be mentioned if it had not seem crucial in Hoffman's directorial career. The authority wanted to get rid of him but he did not allow himself to be threatened. His position changed greatly with the success of "Colonel Wołodyjowski". Million of viewers supported Hoffman and his movie enraptured nearly all the critics. He could start thinking about making "The Deluge". He claimed that "Colonel Wołodyjowski" was strictly an adventure film while "The Deluge" would be a great national epic. The screenplay was written together with Wojciech Żurkowski (the same one who worked earlier with Ford) and with professor Kersten, a historical consultant for "Colonel Wołodyjowski". Kersten said:" What seemed most important during writing the screenplay was to show emotions and also some reflection on moral duty and faithfulness. The plot I wanted to push through was focused on the young "animal" called Kmicic. He puts on fire, kills, and plunders. He does it partly for his country but mostly for himself. Later he gets lost in killing and kills for the erroneous cause. Then he kills again but for the good cause. If he lived today, he could start reflecting on killing and its sense. […] Only such a hero had a chance to convince contemporary twenty-year-olds." (M. Oleksiewicz, "535 dni »Potopu«", WAiF, W-wa 1975).
Kmicic on the screen had to be different from his prototype in the book who was much more cruel and he could make a viewer to dislike him complately. For this reason in Wołmontowicze there is only a fire shown without trace of murdering women, children, and elderly. Kmicic himself is devasatated with all he has done. Daniel Olbrychski, thanks to his popularity and looks, managed to play Kmicic as a likeable young man who goes through a process of transformation. However, he was close to resign from this role after the press attacks which were absurd. But Hoffman as usual got what he wanted and Olbrychski played Kmicic anyway. The Press intereset in "The Deluge" production was in a way justified as it was the biggest Polish film production so far. There have never been such a number of actors involved (71leading and supporting roles, and over 300 minor roles), extras (45 thousand), horses (1700), props (20 thousand), costumes (24 thousand), or weapons. Also, it has never taken so long to make a film. It was 5 years from the first talks about making the film until its premiere. Shooting itself lasted for 535 days.
On the set of "The Deluge" Jerzy Wójcik, the author of pictures, was Hoffman's closest collaborator. He was the best student and a successor of Jerzy Lipman, a cameraman of "Colonel Wołodyjowski". He had a great instinct for a cinematic quality of events and managed to persuade Hoffman to remove those being too literary in description. Could anyone imagine Zagłoba fighting in Warszawa with the Swedes and with... monkeys? It is pure literature. Besides, Wójcik was aware that between the Sienkiewicz's generation and the contemporary generation there was the Warsaw Uprising, so however you filmed the 17th century's fight in the streets of Warszawa they would not stir up emotions. The tragedy of 1944 was well remebered.
Emotional sensitivity also influenced the way Jasna Góra was shown as this is a very special place for Catholics. Even though the monastery looks complately different from how it looked in the 17th century, producers decided to use it anyway. Apart from little details they did not modify its appearance. An attempt to show the 17th century's monastery could be in a way false for the audience – like breaking the myth.
The scene with opening the curtains from the picture of Black Madonna of Częstochowa build a magical link between those who defended it in the 17th century and those contemporary viewers who remebered the attempt to rob the celebrations of the 1000th anniversary of Poland of its religious dimension. They could only guess how difficult it was for the producers to receive the consent for showing the picture on the screen (cenzorship agreed under the condition it would be seen not longer than few seconds). At that time the picture of Black Madonna was a symbol of freedom.
"The Deluge" was meant to be a film about Poland and for Poland to cheer people's hearts. It was a great joy it was also noticed abroad and nominated for an Oscar. It eventually lost with Fellini's "Amarcord". Still the nomination itself was a token of appreciation for the small European cinamatography for taking up such an impressive effort.
hide tab


press review
Usually films like that begin with appropriately big scene that would take the viewers breath away. In case of "The Deluge" it is not like that. The film starts with a romance of Kmicic and Oleńka. Actually, the whole first part focuses on their love affair. It is not a popular approach to interpreting the Trilogy, where romance is of marginal significance to the history of the Polish nation. […] The Trilogy is the most popular Polish novel and the film version is only its shortened illustration. However, all the cuts made in the film are very visible. […] There are many new characters appearing on the screen – known for the director and for the actors, but not really for the viewer. It makes an impression that the film is more like a chain of pictures linked together without any plan. Such a large-scale undertaking, lasting more than 5 hours and thus divided into 2 parts, should make a integrated and logical whole. For this reason "The Deluge" is more a "live museum" than an adventure movie.
Tomasz Hellen, "Letni potop " ("Fakty 74" no 36, 07.09.1974)
Above all, this is Daniel Olbrychski's film. His Kmicic is a mix of great virtues and of great faults. Courage and wildness, faithfulness and lawlessness, ingenuousness and insidiousness – all these are so interlaced that they cannot be seperated. Kmicic as a character is provoking and fires the imagination. Daniel Olbrychski is unrivalled in the acting profession. In Poland there are many actors who can act anything. However, it is only Olbrychski who has the ability to actually become anyone. He does so using his all his talent, sometimes even against his physical conditions. He knows how to use his body, how to change his physiognomy without make-up or other theatrical tricks. It all happens form within. Olbrychski breaks the stereotypes about the characters and makes us to accept his vision. Just remember the same actor in such films like "Boxer", "Landscape after the battle", or "Colonel Wołodyjowski". He changes like a chameleon, although he remains himself. He can be trusted against our own doubts. What we are the most interested with in "The Deluge" is neither the war with the Swedes not the king, not the nobility, not Radziwiłłs, but Andrzej Kmicic himself.
Alicja Iskierko, "Potop" ("Głos pracy" nr 210, 02.09.1974)
hide tab


awards
Date: 2009
Nomination only: nie
Award name: Złota Kaczka w kategorii najlepszy aktor polskich filmów historyczno-kostiumowych
Achievement: dla Tadeusza Łomnickiego
Event name: Nagroda przyznawana przez pismo "FIlm"
Date: 2009
Nomination only: nie
Award name: Złota Kaczka
Achievement: Najlepszy film historyczno-kostiumowy w historii polskiej kinematografii
Event name: Nagroda przyznawana przez pismo "Film"
Date: 1974
Nomination only: nie
Award name: Nagroda za pierwszoplanową rolę męską
Achievement: Dla Daniel Olbrychski
Event name: Festiwal Polskich Filmów Fabularnych
Date: 1975
Nomination only: tak
Award name: Oscar - kat. Film obcojęzyczny
Event name: Oscar (Nagroda Amerykańskiej Akademii Sztuki Filmowej)
Date: 1975
Nomination only: nie
Award name: Złota Kamera
Achievement: Najlepszy film polski
Event name: Nagroda przyznawana przez pismo "Film"
Date: 2007
Nomination only: nie
Award name: Złota Kaczka
Achievement: "Złota Kaczka" 50-lecia dla sceny walki Kmicica z Panem Wołodyjowskim w kategorii: Najlepszy pojedynek
Event name: Nagroda przyznawana przez pismo "Film"
Date: 1975
Nomination only: nie
Award name: Nagroda aktorska
Achievement: Dla Daniela Olbrychskiego
Event name: Festiwal Filmowy Ludzi Pracy (Czechosłowacja)
Date: 1974
Nomination only: nie
Award name: Nagroda Publiczności
Event name: Festiwal Polskich Filmów Fabularnych
Date: 1974
Nomination only: nie
Award name: "Złote Lwy"
Achievement: Wielka Nagroda Jury Grand Prix
Event name: Festiwal Polskich Filmów Fabularnych
Date: 1999
Nomination only: nie
Award name: "Najciekawsze filmy polskie XX wieku"
Achievement: 5 miejsce w ankiecie
Event name: Koniec wieku - ankieta "Polityki"
Date: 1975
Nomination only: nie
Award name: Nagroda Ministra Kultury i Sztuki I stopnia dla Jerzego Hoffmana
hide tab


did you know?
Exterior locations: Lublinek airport near Łódź (Kmicic and Bogusław's duel), Mińsk's suburbs in Belarus (Wołmontowicze), Kiev surroundings in Ukraine (Kmicic and Wołodyjowski's duel), a castle near Lviv (Kiejdany), a castle in Olesk (Taurogi), Nowy Targ (sleigh ride after the wedding), Piaskowa Skała (Oleńka's trip with Bogusław to Taurogi), Niepołomice's Forest (Kiemliczs' cottage), Sulejów (a place of skirmish of Kmicic with Butrym and his people, Bogusław's kidnapping).

Lesław and Wacław Janicki grew their hair for their roles of Kiemliczs. They received such a letter: "The Deluge film team states that actors Lesław and Wacław Janicki playing roles of young Kiemliczs are supposed to have long hair and cannot cut them in two year times".

"The Deluge" was the first Polish film made using "Panavision" lens.

The work on making the film started in March 1969 and the film's screenplay was ready in December 1969. Starting from August 1970 Hoffman and Wójcik were choosing exterior locations and in the beginning of December the film was officially directed to production. Shooting started on the 25th October 1971 and finished in May 1973.

"The Deluge" cost 100 million złoty but it paid for itself after 5 weeks of screening.

The whole digital reconstruction of the film lasted 1 year. It took 2 weeks to scan the film. Over half a million frames were included in the semi-automatic and manual work – all of them were saved in seperate picture files.
hide tab


posters and stills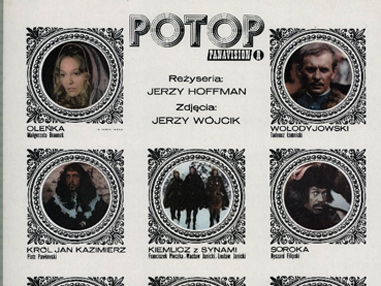 Graphic design: colour, fotograficzno-graficzny, 83 X 58
hide tab